Continuous Improvement Starts with Continuous Feedback from Our Member Community
Our product team releases new enhancements every two weeks in Product Sprints, this year named after types of sea creatures. Watch short videos to learn about each improvement, and check back often!
What's New in This Sprint?
New mail options in the placement approval grid, the ability to copy an entire class and its contents, the ability for instructors to copy assignments from the assignment grid, and an update to student notifications. 
Mail Options in the Placement Approval Grid
Placement approvers will now be able to send message to students and supervisors directly from the placement approval grid.  This can be used to quickly communicate with anyone who has outstanding tasks in the placement process to keep the process moving smoothly!
Learn more here.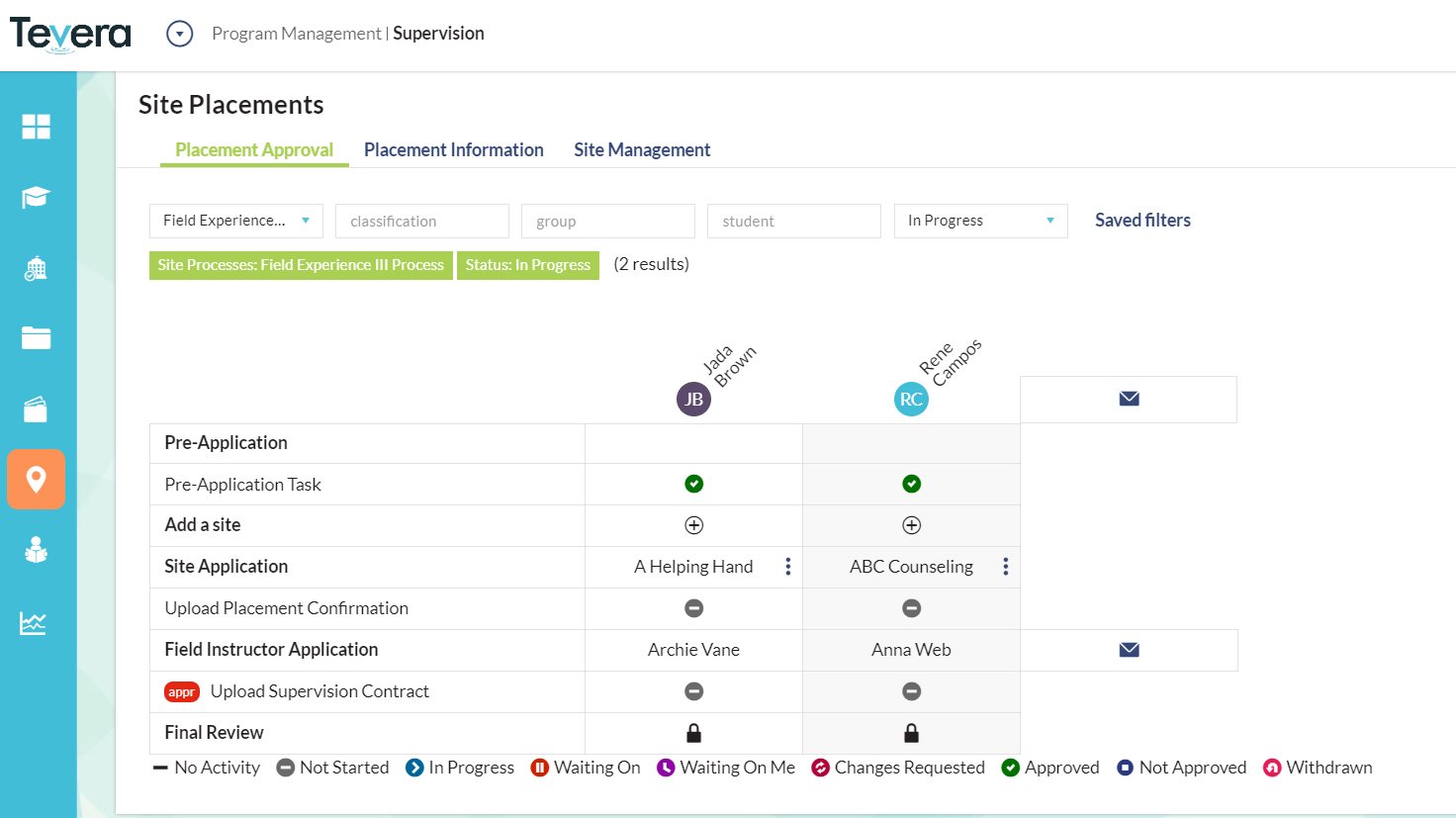 Copy Assignments in the Assignment Grid
Faculty will now be able to copy existing class assignments directly from the assignment grid, rather than creating new assignments from scratch,  for more efficient class management. This will come in handy if students need another copy of a time report or a specific form at any point mid-term.
Learn more here.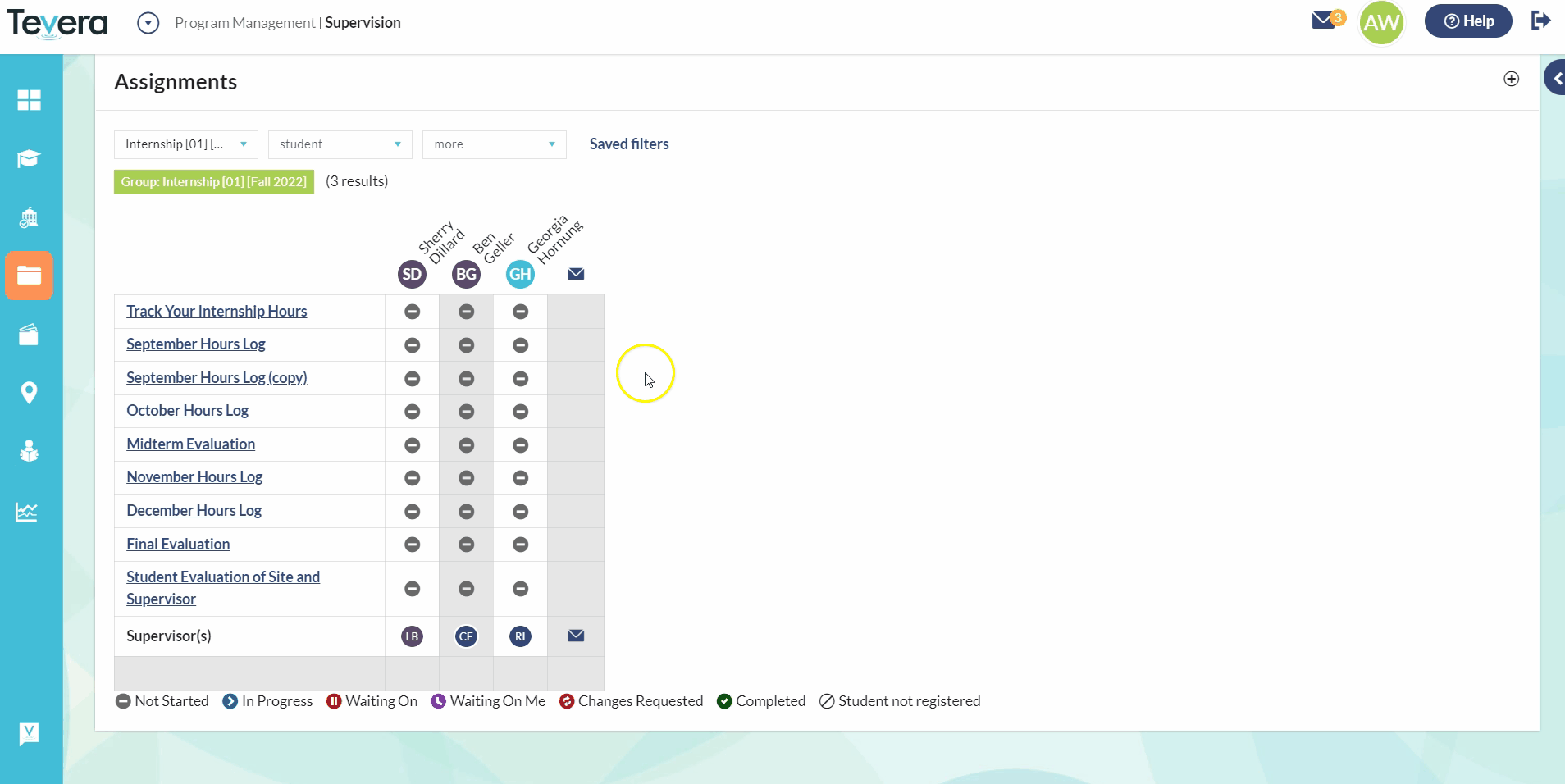 Copy a Class and its Contents
Program administrators will now be able to copy an entire class, including the class details, users, supervisors, and assignments. This will streamline term-to-term setup for programs that have students moving all together from one class to another.
Learn more here.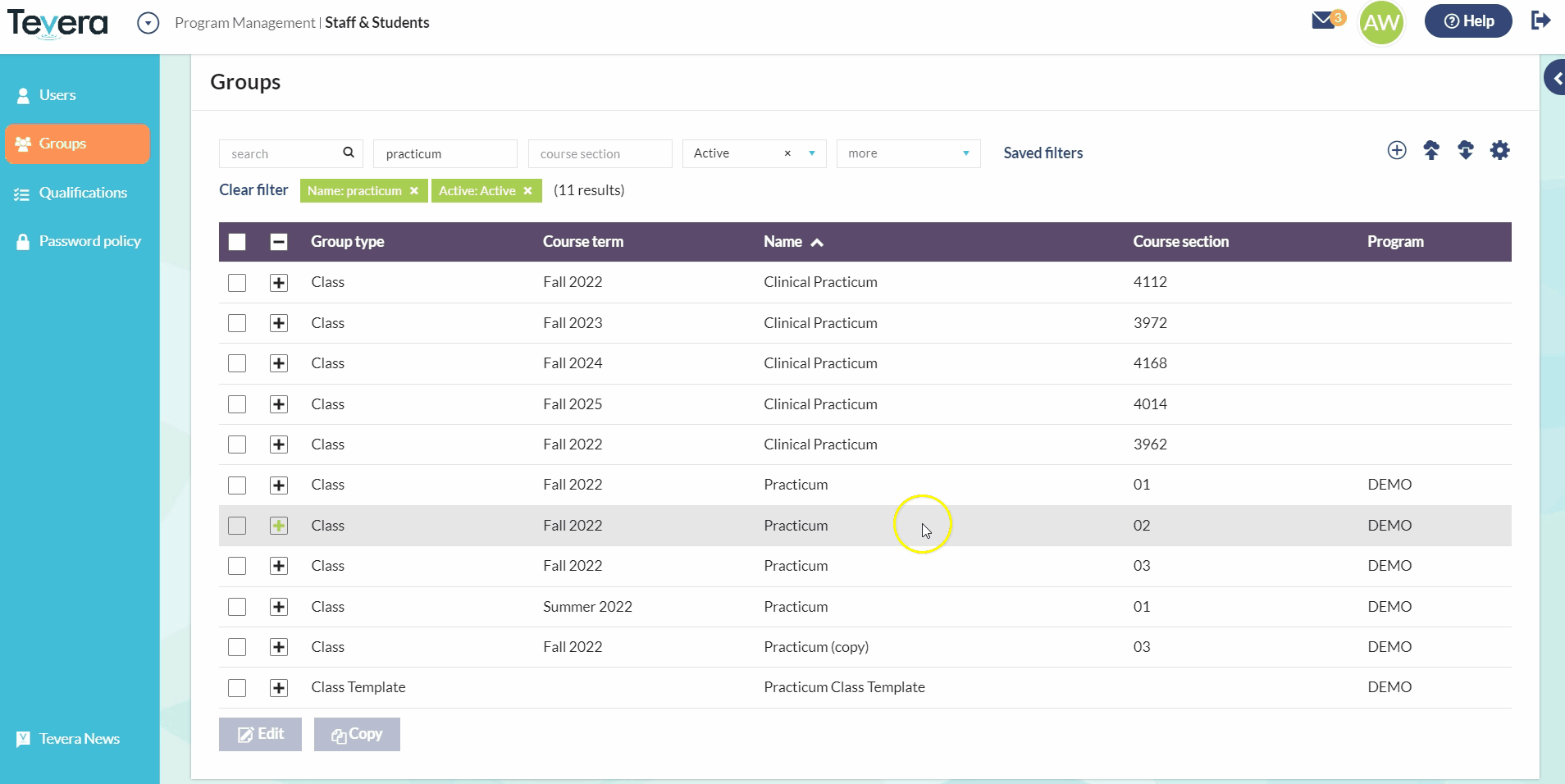 Students Won't Be Notified When Tasks Don't Involve Them
Some tasks in a student's class or site placement process don't involve the them – like a form being sent directly from a placement approver to a site representative. Going forward, students won't be notified when this occurs, so that they can remain focussed on the tasks that do involve them! Of course, they'll still be able to see the status of any tasks that are visible to them in their assignments and site placements workspaces. 
What's New in This Sprint?
A new way to add students to classes and groups en masse, updates to reviewer groups
Adding Students to Classes and Groups en Masse
Expedite class and group creation term over term by mass-adding users to groups any time after their accounts have been created. Either copy all users from one existing group to another, or select a number of users from the users (staff & students) table and add them all to a group at once.
Learn more here.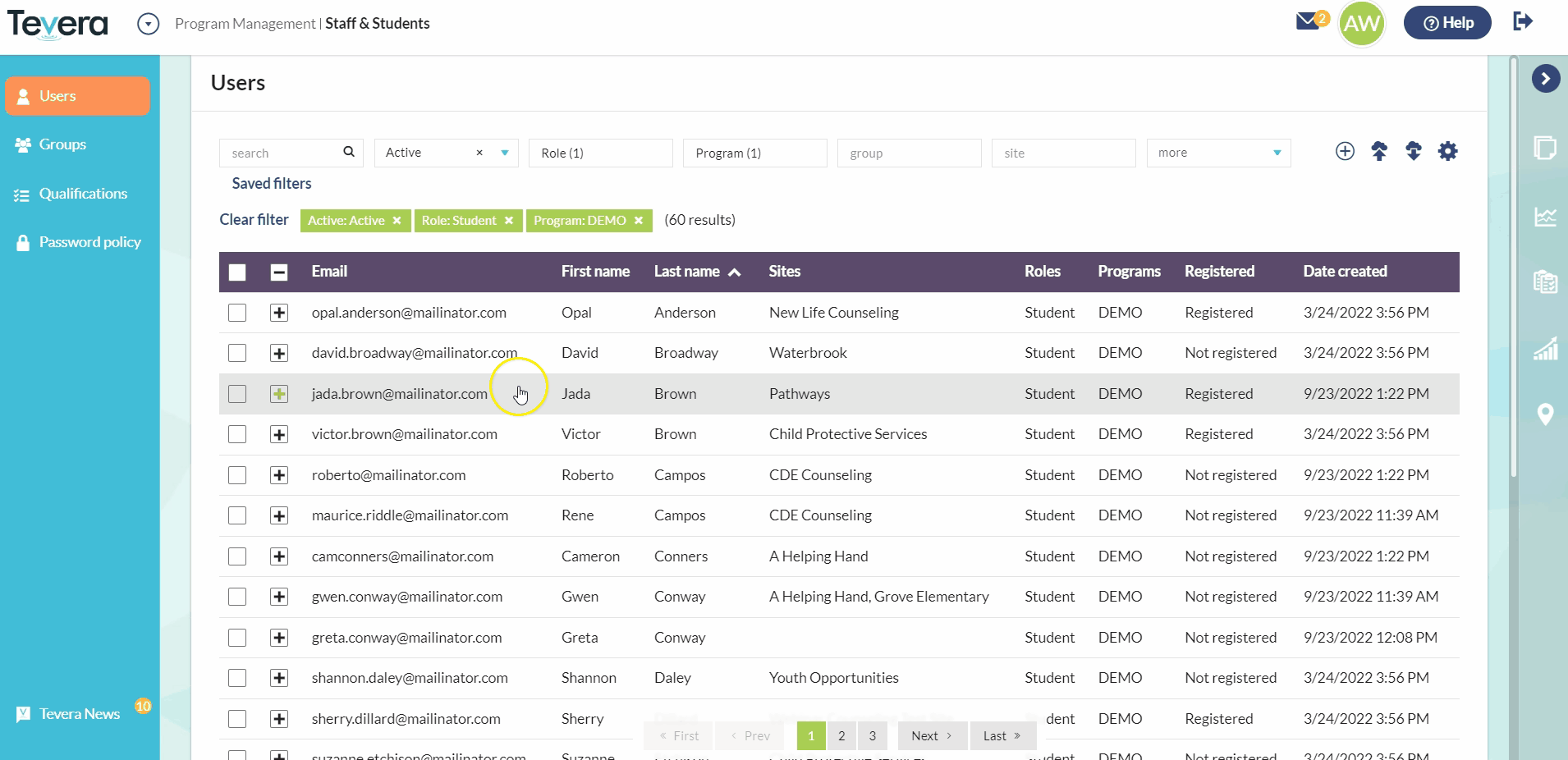 Updates to Reviewer Groups
Going forward, only users with the class functions or program administrative functions roles will be able to be added as members of reviewer groups. Additionally, only reviewer groups will be able to be added as group reviewers on tasks. This will simplify the group review setup process and provide greater protection of student privacy.
Learn more here.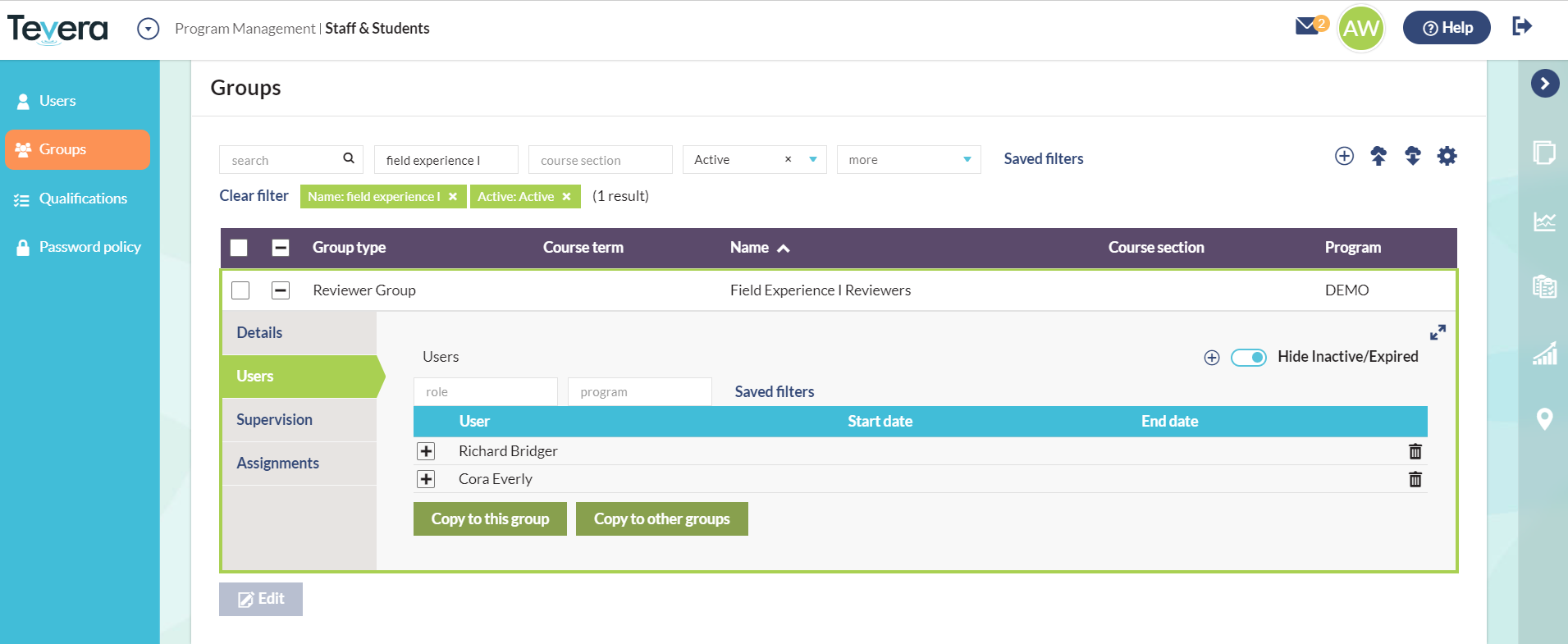 What's New in This Sprint?
Updates to the #514, #522, and #511 time reports. 
Updates to the #514 and #522 Reports
We've split up the existing #514 – Track Hours Log  and #522 – Summary of Hours reports into A and B versions, to better serve student and administrators' unique needs. New "B" versions of these reports will be available to program administrators, allowing them to pull reports on hours logged within their program for individual students and alumni.
Learn more here.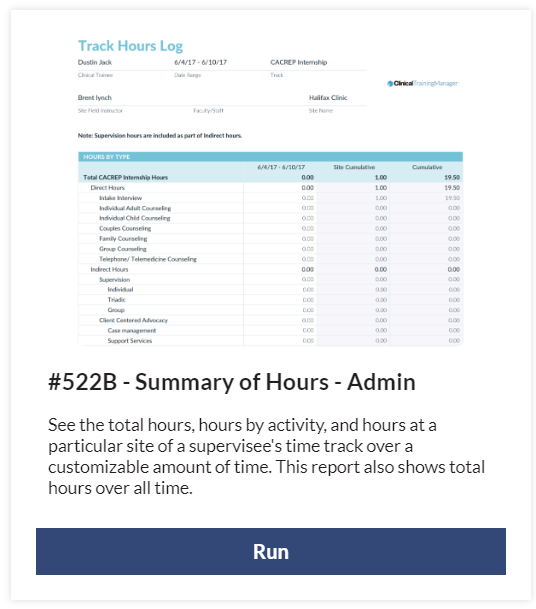 Updates to the #511  BBS PCC Weekly Hours Summary Report Output
To remain current with requirements from the California Board of Behavioral Sciences, we've updated the #511 BBS PCC Weekly Summary of Hours report output to match the latest Associate Professional Clinical Counselor Weekly Log of Experience Hours provided by the BBS.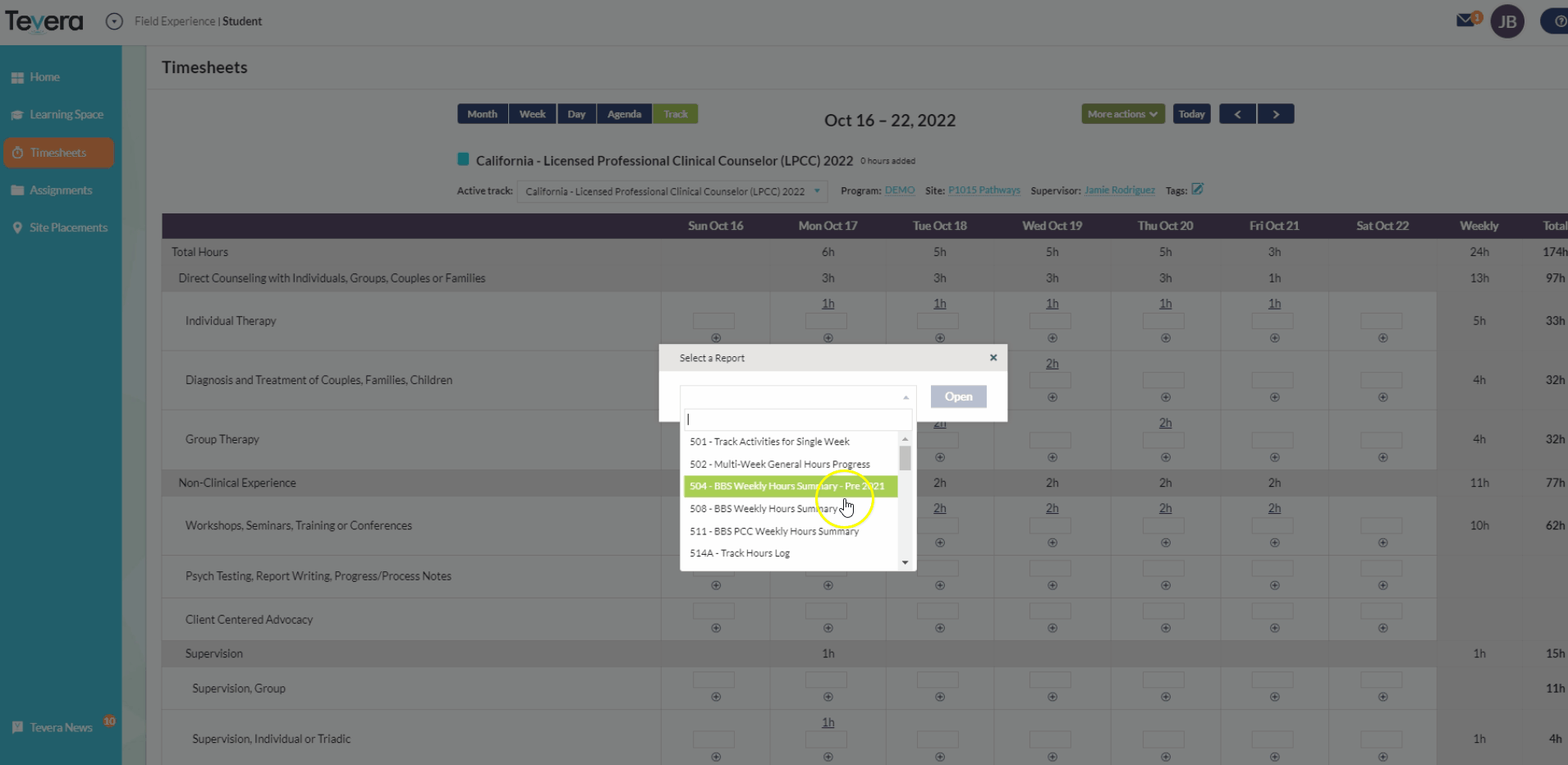 What's New in This Sprint?
A way to view multiple classes at once in the assignment grid, enhanced mass messaging from the assignment grid and communications hub, the ability to share more site documents with students, and updates to the BBS Weekly Hours Summary Report output. 
Filter Assignment Grid by Class Templates
Faculty and Program Admins can now view the students in all classes copied from a class template by selecting the class template from the classes dropdown menu in their assignments grid. No more clicking around to multiple classes to see all of your students!
Learn more here.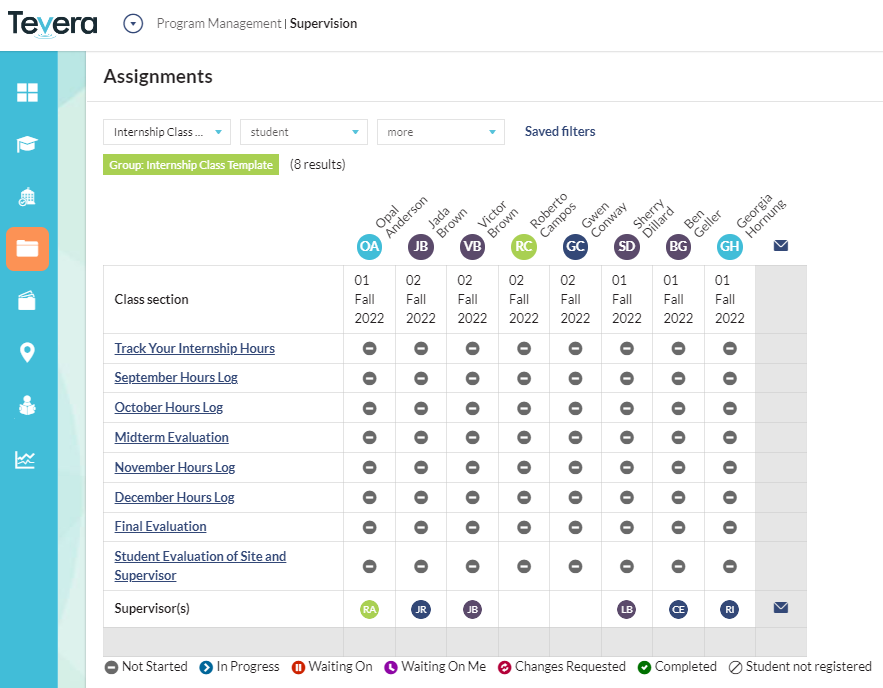 Message Students and Site Supervisors en Masse from the Assignment Grid
Course instructors can now message all students or their site supervisors directly from the assignment grid. Choose whether you want to send the message via Tevera's communications hub, or via email.
Learn more here.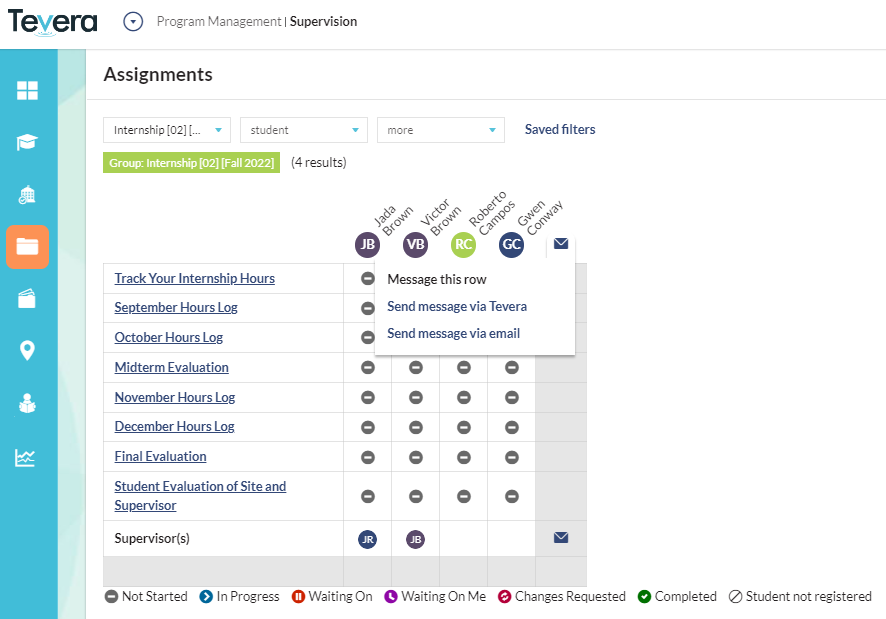 Recipient Groups
The new Recipient Groups feature in the communications hub allows program admins to send messages en masse to all program members, users with a certain role, all members of a group, or some combination of the three. Faculty members can also send messages en masse to the groups they supervise.
Learn more here. 

Ability to Make Site Document Uploads Visible to Students
With new "public" document types, you can make documents uploaded to your sites' records available to students.
Learn more here.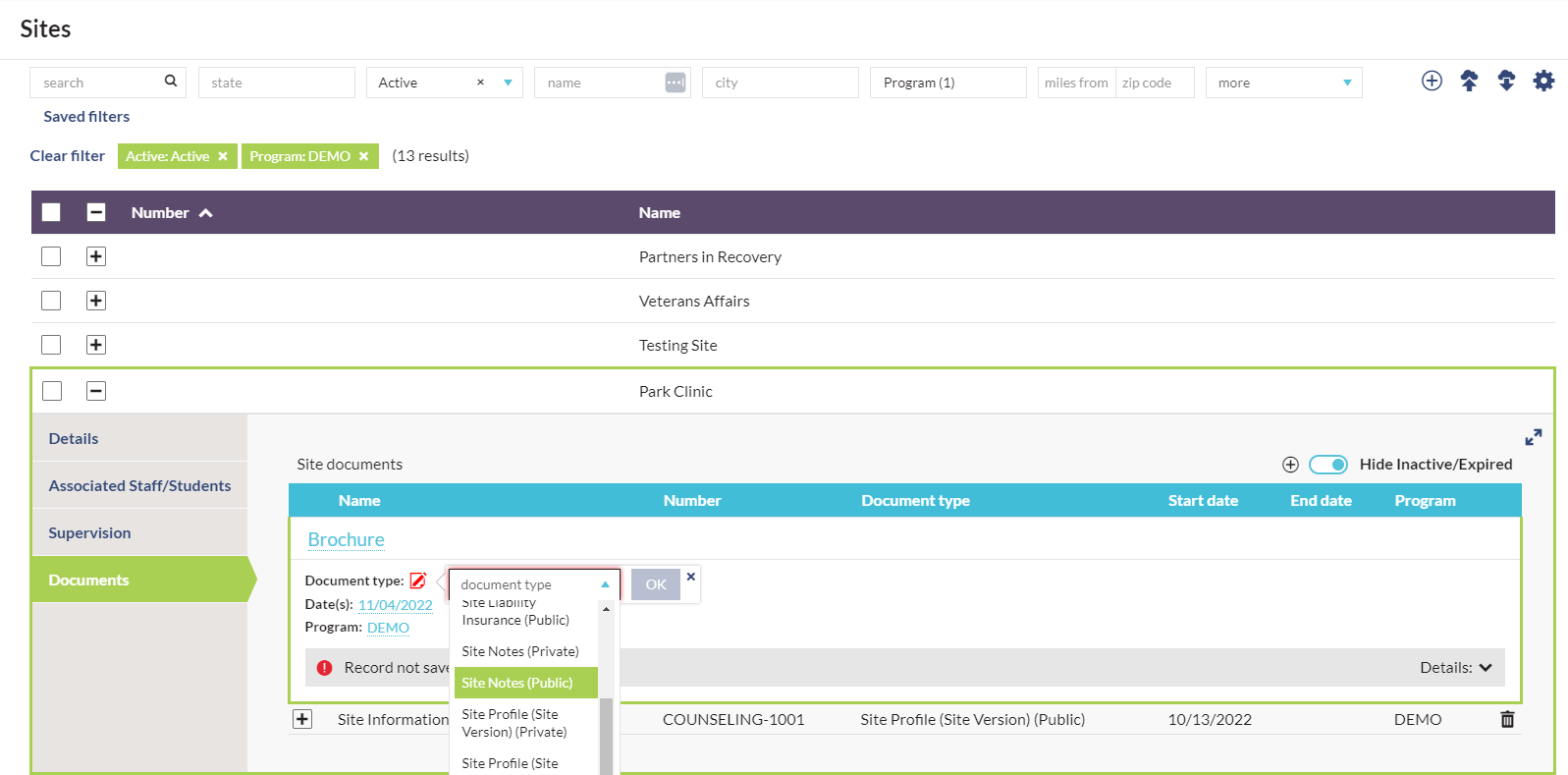 Updates to the #508  BBS Weekly Hours Summary Report Output
To remain current with requirements from the California Board of Behavioral Sciences, we've updated the #508 BBS Weekly Summary of Hours report output to match the latest Trainee or Associate Marriage and Family Therapist Weekly Log of Experience Hours provided by the BBS