Product Design Cycle
COLLABORATIVE, CONTINUAL IMPROVEMENT
Tevera's development cycle is a continuous cycle of improvement and collaboration that starts with member feedback and follows a four stage process:
Review

Design

Develop

Release
Click on each step to learn more about how we continually work to serve Tevera members better.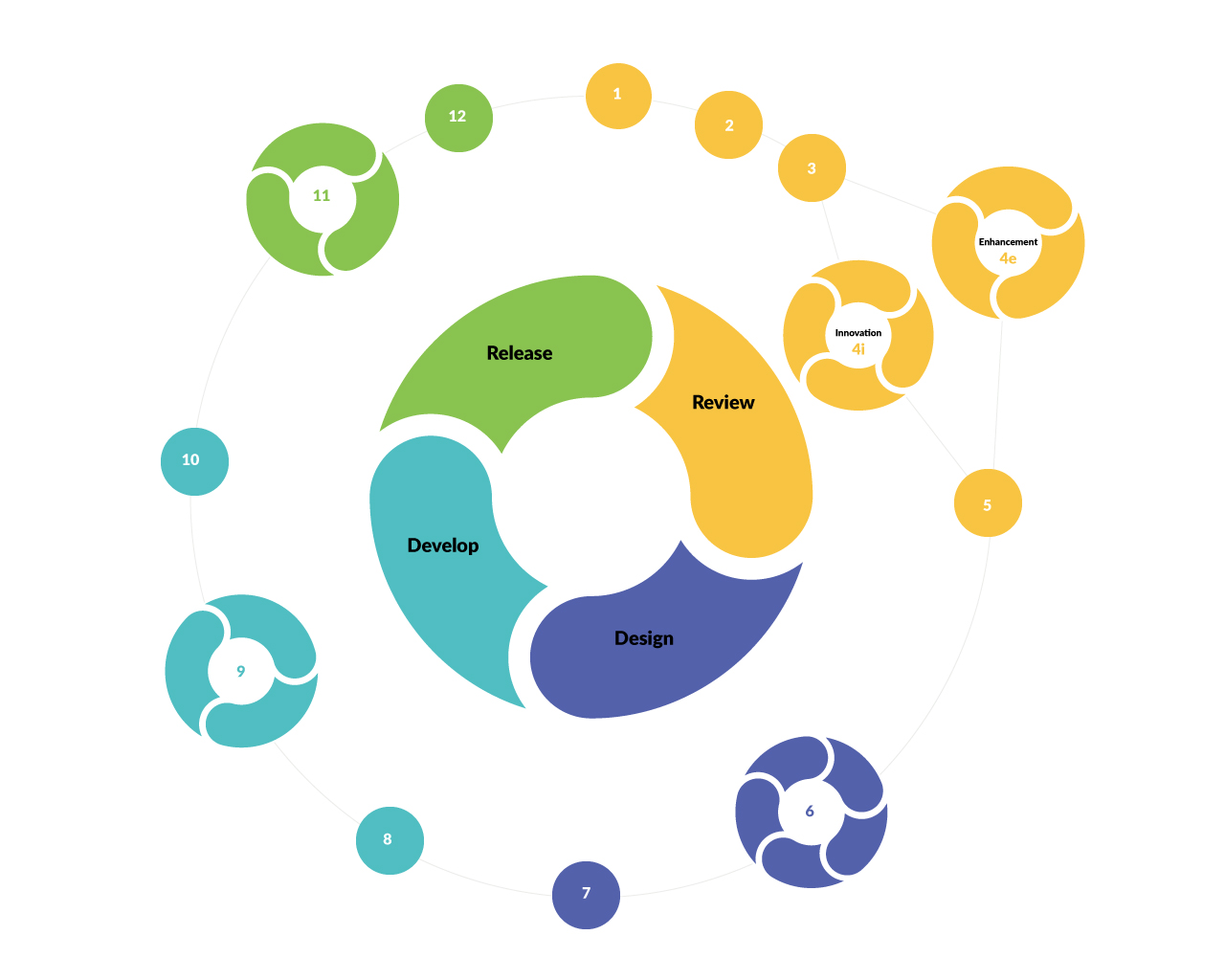 Review
COLLABORATIVE
Our Review Cycle is perhaps the most important part of our entire process because this is where we get direct feedback from members. Feedback can include bug fixes, user experience enhancements, new feature requests, and everything in between.
To help us get at the root of an issue, we categorize feedback by personas (e.g. program administrators, faculty, students, field supervisors, etc.) so we have context for the 'jobs-to-be-done' and the expected outcomes. Key components of this cycle include: 
Reviewing feedback

Defining the scope of change (i.e. enhancement or new feature?)

Determining priorities and feasibility

Developing initial requirements

Putting vetted ideas onto the product roadmap. 
From here, enhancements and new features move to our Design Team for the next phase.
Design
MEMBER-CENTERED
The Design Cycle incorporates "Design Thinking" which is an iterative process that helps us understand members, challenge our assumptions, and help redefine problems.
This cycle follows 5 steps that will be repeated until the team has a clear requirement to send to our Development Team:
Define

Ideate

Prototype

Test

Empathize
Once an enhancement makes it through this cycle, it's ready to move on to our engineers for development.
Develop
AGILE METHODOLOGY
Tevera uses the agile methodology to manage development projects by breaking them up into several phases.

Agile's four main values ensure speedy development and user-centered design:
Individuals and interactions over processes and tools

Working software over comprehensive documentation
Customer collaboration over independent work
Responding to change over following a plan
Continuous collaboration is vital, both with team members and project stakeholders.
Release
MEMBER EXPERIENCE
Market Release involves a cross-departmental effort to release new enhancements and features as smoothly and seamlessly as possible for members.
Teams including Product, Technical Support, Customer Success, Sales, and Marketing collaborate to create:
Product news to communicate features and benefits

Internal documentation for our support teams

Help articles, gifs, and videos for our Knowledge Hub

Training and demo materials 

Demo database for rapid response to testing
Depending on how you look at the Development Cycle, Market Release is either the beginning of a cycle of improvement, or the culmination of a prior cycle. Either way, this is the stage we look forward to as our measure of how well we are serving our members.
Member Feedback
WE LISTEN
Product enhancements and even new features often start with feedback we get directly from members. Ideas for feedback can include:
UI changes

Workflow improvements

New problems to solve

New features to develop
Submit feedback through Tevera's ticket system or contact your Member Success Team representative.
Feedback Review
SEEK UNDERSTANDING
Our staff regularly reviews feedback as it comes in through various channels. When an issue is unclear, we'll contact the member to get more information.
At this stage, we start categorizing ideas, comments, issues into buckets.  Things like bugs will be expedited for fixing and  will bypass the cycle. Some items might be out of our scope and will be put into the backlog.
Everything else will move forward in the design cycle for further evaluation and prioritization.
Define Scope
ENHANCEMENT VS. INNOVATION
Defining a potential development project's scope is essentially a high level evaluation of what type of development and design effort will it require.
Enhancements
Most items will fall into the category of Enhancements, which are basically improvements to existing features. Enhancements can be small and not very noticeable or fairly large and have immediate impact.
Innovations
Innovations are larger projects. They may be new features that significantly expand the value of Tevera to members or be entirely new product offerings that serve new markets or stakeholders. Innovations may also extend Tevera's utility to different parts of the career journey for example the Tevera Pro Career Site.
Next, let's look at each type of project to see how they're different.
Enhancement Cycle
IMPROVING & SIMPLIFYING
Enhancements broadly improve the functionality of Tevera and/or simplify the experience for members. Stages in this cycle are:
Initial Review
This review dives deeper into the enhancement to answer questions like:
Is this core to Tevera?

Are numerous members requesting this?

Is it in alignment with our long term roadmap?

Is the Job to Be Done core, but missing?

Is the scope of the change within current resources?
Prioritization
Scores are given to answers from the Initial Review. The more "Yes" answers, the higher the priority.
Assign & Define Requirements
Once a project has been prioritized, it is assigned to team members who determine if additional research is needed, does it involve design and usability, or can requirements be written and it can be put in the Sprint queue.
Innovation Cycle
IDEATE & CREATE
Innovations fall into two categories: new features for existing products or entirely new products serving current markets or new markets. Innovations require considerable research and design effort and are reserved for those ideas or projects that will make a significant impact for members.
By definition, an innovation is an 'out-of-the-box' solution to solve problems that may not be readily apparent to us or our members, which is why we've adopted the Jobs-to-be-Done framework to help us uncover unmet needs. 
The Innovation Cycle is composed of 4 stages:
Concept Stage


In the "ideation" stage, we look at an idea's fit with our core value propositions, the market potential, and the impact it will make for members' experience.

Feasibility Stage


To make sure we have the ability to fully develop an idea, we screen it for business opportunity, market need, technical scope, and the resources required to bring it to market.

Definition


If an idea passes the feasibility screen, it's fleshed out in detail at this point.

Business Case & Timeline Stage


Finally, the business case and placement on the product roadmap is made and moved into the queue along with all the other development projects.
Review Priorities
PLANNING THE ROADMAP
This stage is like the tip of a funnel where competing projects that have been 'green lighted' compete for resources.
Our product team balances urgency with long term impact so that we keep enhancements flowing while reserving as much resource as possible to work on projects that have a longer timeline. 
Design Stages
USER EXPERIENCE
The Design Cycle is composed of 5 stages:
Empathize


In this stage, our UX team conducts research with users to understand the problem as they see it vs. how we might.

Define


User research is documented and defined to guide solution design.

Ideate


Solutions are brainstormed with the best moved forward for actual design work.

Prototype


Mockups and wireframes of the best ideas are created to ensure we have a clear design concept to take to engineering.

Test


Our mockups and wireframes are used in another round of user testing to get their feedback on how well we are addressing a problem or creating a new solution.
This process can be repeated indefinitely until we feel we've designed something that will work and that members will like.
User Stories
REQUIREMENTS
User Stories are developed for each project being sent on to our engineers. These detailed requirements spell out exactly what the design team has developed, prototyped, and tested with users.
Precise communication is critical to avoid misunderstandings between the engineers and designers that can lead to costly rework.
Sprint Placement
SCHEDULING
Sprints are two week development efforts and core to the agile development model. Projects are designed as small as possible to fit into a two week framework which keeps the cycle moving forward and, if necessary, avoids complicated rework.
Sprint placement is like a traffic coordinator who balances staff resources and project complexity to keep everything flowing.
Develop Cycle
AGILE
The development cycle is where our software engineers do the majority of actual coding and testing. During a two week sprint, new code is written, reviewed by another engineer, and tested for functionality in a test database. If a design change was made, a designer is brought in to review work and make sure it's what the designers had drawn up originally.
From here, the project is ready to for the market release team to prepare documentation materials and support articles.
Staging
READY
Projects that have been engineered and tested are stacked up for the product release team so that they can be released in an orderly manner with all necessary support materials.
Market Release
MEMBER READY
Getting software 'member ready' means that before members can use something new, we've developed all the help files, videos, and marketing materials to support the enhancement or feature. The team starts this cycle by categorizing the project in three ways, each with different levels of required materials:
Feature - Large


As you might expect, large features require the most documentation and support. Because members wouldn't have previous knowledge of a new feature, or it's purpose or value, we'll create a range of material including marketing information, best practice guides, help articles and videos, and training materials if needed.

Enhancement - Medium


Medium enhancements are changes to a core feature and may change how members use the software. Members would notice the change and may not intuitively know its purpose or value so support materials will be developed to guide them.

Enhancement - Small


Small enhancements are typically not noticed by most users and may not change their experience using a feature. Minimal support materials may be required for these enhancements.
Go Live
SHOWTIME
If you've followed our process this far and get a feeling for all the work that goes into enhancements and new features, you can probably guess how excited our team is at this point to see how members react.
Celebrations tend to be short however because the cycles keep repeating as soon as members give us feedback on the latest release and we start the process again!